The physical exhibition will be accompanied by a virtual realm of online discussion groups and expert talks allowing visitors to access and contribute to the installation intellectually. These sessions are facilitated by Deep Space and hosted by various experts.

Deep Space is a new approach to exploring and exchanging knowledge about architecture and all of its intersections. It provides a framework for experienced facilitators to host discussion groups over several weeks accompanied by curated reading lists to spark conversation. As such, Deep Space allows facilitators and group members alike to slow down and think deeply outside of traditional academic structures or the haste of social media.

Our first edition of Deep Space will be held during The Green Brush exhibition, as it provides the perfect environment with the architectural installation becoming a springboard for conversations about the interconnectedness of architecture, technology, nature and beyond.

︎ Expert talk with Lily Kwong
Date: Wednesday Sept 29th
Time: 12-1 pm EST / 6-7 pm CET
Click here to sign up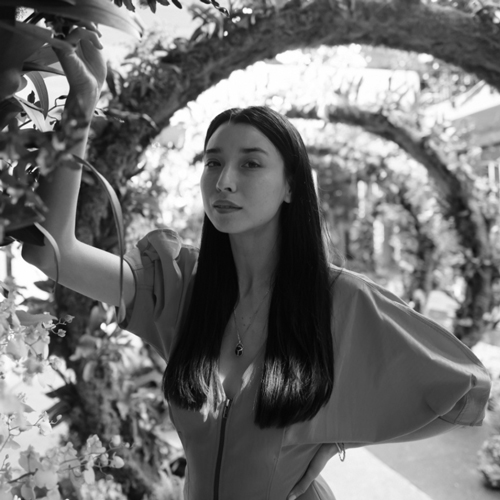 New York-based landscape designer Lily Kwong works at the intersection between horticulture, urban design, contemporary art, fashion and wellness, reconnecting people to nature through transformative landscape projects and site-specific botanical art installations. She is the founder of
STUDIO LILY KWONG
and
Freedom Gardens
.
Lily Kwong joins us for an intimate Q&A session to talk about her work and the relationship between architecture and plants.
︎ Deep Space discussion groups

Reforesting Ideas — An Introduction to Plant Thinking
Dates: Tuesdays Sept 14th, 21st, 28th; Oct 5th
Time: 1-2 pm EST / 7-8 pm CET
Reading time: 1 hour for each meeting
Hosted by: Valeria Meiller
This discussion group departs from the consideration of plants as compelling living beings to open-up philosophical explorations. We will tackle the work of contemporary thinkers who are trying to foreground the importance of plants in the sustenance of our planet. In an age of rapid environmental degradation and the loss of natural environments, the readings for each week look to reframe long standing understandings of plants as passive and silent beings. Together, we will try to reimagine our entanglements with the vegetal world and the cultural approach to our green co-habitants.
Find the complete syllabus here.
Click here to sign up
The plants in our lives: four chapters of a global epic
Dates: Wednesdays Sept 15th, 22st, 29th; Oct 6th
Time: 8-9 am EST / 2-3 pm CET
Reading time: 1 hour for each meeting
Hosted by: Elena Seegers & Simon de Dreuille
The plants in our lives and in our homes are the unsuspected representatives of a highly advanced level of globalization. Many of those most familiar to us got a space in the living room through a fascinating history of colonisation and displacement in which each species played roles of allies and opponents, vessels and commodities... For the first 5,000 years of modern civilization, plants humbly fed every human and animal that walked the planet. Foraging of the otherwise untouched forests, prairies and jungles was an integral part of life. Slow selection, domestication and cultivation took place. The plants themselves were mainly interested in reproduction, and humans helped by dispersing seeds, replanting and other fun tricks - it was a pretty chill collaboration. In the last 500 years, since humanity started roaming on a planetary scale using boats, plants have been uprooted from where their evolution happened and today it's hard to fathom what is endemic to where and why they moved as they did. The following is four chapters of that story.
Click here to sign up
About the hosts
Valeria Meiller is an Argentine writer working on environmental projects, writings, and ideas. Valeria is an Assistant Professor in Social and Environmental Challenges in Latin America at the University of Texas at San Antonio. She is the author of the Spanish poetry books El libro de los caballitos, El mes raro, Tilos and El Recreo. Her academic work has been published or is forthcoming at Revista Iberoamericana, ISLE and Revista de Estudios Críticos Animales Latinoamericanos, among others. She has produced interdisciplinary and collaborative projects for the 5th Istanbul Design Biennial in Turkey, the Contemporary Art Center in Lithuania, and the Emily Harvey Foundation in New York.
Website:
www.valeriameiller.com
Elena Seegers and Simon de Dreuille are a duo of spatial practitioners trained in Architecture, Botany and History of the environment. They are involved in a range of scales from territorial strategy studies to state of the art production design to objects. Through a deep understanding of the natural world, they imagine botanical installations, devices and stories for both artistic purpose and commissioned projects.
Website:
www.botanicalagency.com